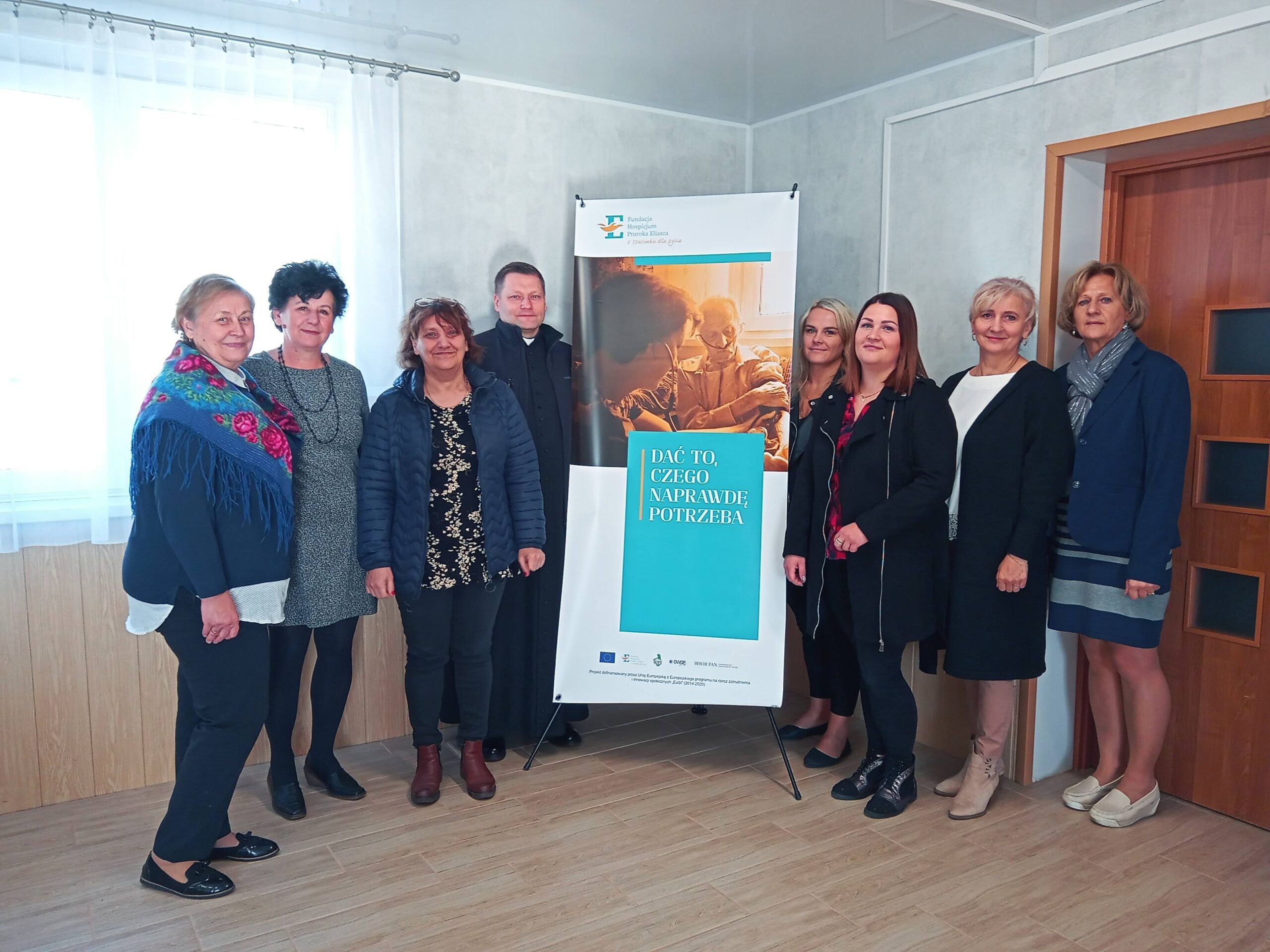 Two more months of project activities (September-October 2021) are behind us. We discussed the work schedule in the project at a cyclical meeting of the project team, Partner 1 consultants shared the conclusions on the innovation model collected during the networking meetings June-August 2021, Partner 2 continues its research work. Partner 3 prepared coordinators to complete a periodic report. The Hospice team participates in monthly relaxation workshops supporting and preventing burnout on the one hand, and building the team on the other. Preparations for a film on the project have started. There is a newly appointed function in testing innovation – the dependent care coordinator (KOOZ). Taking into account the needs of our beneficiaries, we imagined what tasks would be performed by the coordinator. Our many years of observation show the need of action to be performed by a person who will support and connect the activities of the hospice's medical team in caring for dependent people and their carers with the activities of local social welfare institutions, including employees of communal social welfare centers, medical care workers, members of formal and informal social local organizations, clergy, employees of uniformed services, actual and potential carers of elderly and dependent people.
When looking for a solution, we thought about what functions it should fulfill. We came to the conclusion that the KOOZ was supposed to fulfill the following roles:
• Identifying the needs of dependent people, assessing the possibilities and planning ways to meet them, in particular:
•acting on behalf of the beneficiaries, also to aid and medical institutions to provide better care and support, • information, assistance and coordination in completing related formalities with organizing care and support,
• assistance in settling current affairs and personal or legal problems
• assistance in obtaining the necessary rehabilitation or medical equipment.
• proposing care centers in consultation with the hospice doctor and nurse
We check these assumptions in practice. So far, KOOZ has carried out activities in contact with the beneficiaries, examined the needs of the group covered by the innovation, with the support of our Partner 1 experts, KOOZ organized and conducted another session of networking meetings in 5 municipalities covered by the innovation, KOOZ cooperates with the medical team on an ongoing basis at individual meetings and team meetings, sharing knowledge and supplementing knowledge about the needs of charges. In response to non-medical needs, KOOZ organized help in cases requiring intervention. A few examples of the actions already accomplished: necessary cleaning works around the house, removal of architectural barriers, organizing respite aid for home caregivers, assistance in writing official letters. Without the knowledge about the needs acquired during individual meetings, talks and visits the beneficiaries and their families, and without the support of the network, this help would not be possible. In response to the feedback received at networking meetings, KOOZ planned educational activities for the upcoming months.